Career at Sweco
Transforming society together
Sweco is Europe's leading architecture and engineering company. We plan and design sustainable cities and communities of the future. Together with our clients, our architects, engineers, and other experts create projects that address urbanization and digitization, making our society more sustainable.
Sweco Denmark has a team of 1,500 colleagues. On a larger scale, we are a community of 21,000 professionals spread across Europe, working together to tackle projects in 70 countries worldwide.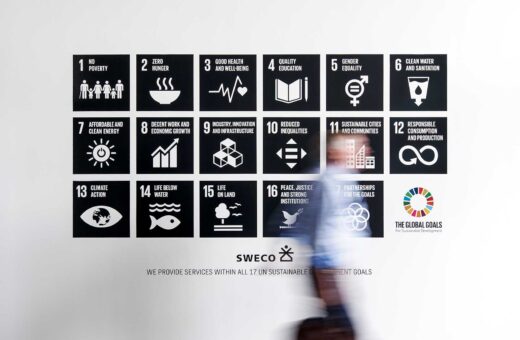 If you take responsibility, you get responsibility
Our employees are empowered to make decisions, take initiative, and effect change. Our belief is that decisions should be made at the local level, as close to the projects as possible, by those who possess the most knowledge about our customers and projects.
This way, we ensure the shortest path from the good idea to its realization. This is why we operate with a non-hierarchical structure where individuals who assume accountability are entrusted with it.
Currently we have no vacancies with selected criteria
Try use another filter or check back in the near future for a position that suits your skills.
How does Sweco handle my data?
When you apply for a posted or unsolicited position at Sweco, you will receive a log-on to our recruitment system. Your information is automatically deleted after six months, but you can delete your information at any time by logging in.
Make sure that your CV does not contain sensitive personal information (e.g. social security number, religious and political affiliations).
At Sweco, we strive to ensure a good and quality-conscious recruitment process, where we focus on keeping the information you share with us secure. Your data will be processed in accordance with the guidelines of the General Data Protection Regulation.
When can I expect a response to my application?
We are conducting interviews on an ongoing basis, so send your application today – not tomorrow
In general, we provide all applicants with written rejection no later than 60 days after the application deadline has passed. In some cases, during holidays and vacations, the process may be prolonged. You will receive notification about this through email.
Can I receive feedback on my application?
Unfortunately, we do not have the resources to provide individual feedback to all applicants, but you can expect feedback if you have been to a job interview with us.
Can I apply for multiple positions?
Yes, you are welcome to apply for the positions that you feel are best suited for you and the next step in your career.
Does Sweco accept unsolicited job applications?
You are more than welcome to send us an unsolicited application. We are always interested in getting in touch with new employees.
How does a job interview at Sweco take place?
A typical recruitment process at Sweco consists of two interviews.
First, you meet the recruiting manager for an introductory conversation, who explains the content of the position. You also have the opportunity to tell more about yourself, your skills, and ask questions about the job and what it is like to work at Sweco.
If you proceed after the first conversation, you will be invited to a second conversation. Prior to this conversation, you will receive a cognitive test and a personality profile test, which you need to answer. We use the two tests to learn more about you, your strengths, and your approach to your work.
For the second conversation, you will also meet one of our recruitment partners who will facilitate the discussion about the results of your personal profile. We allocate ample time for this task because we are committed to providing comprehensive feedback that will be beneficial to you, regardless of whether you are selected for the Sweco position or not. The recruiting leader's superior is also participating in this conversation.
We are also happy to obtain references at the end of a recruitment process. This happens after further agreement with you.
What materials should I send as part of my application?
We always ask you to send your resume. If we require additional documents such as an application, transcripts or your portfolio, it will be stated in the job advertisement.
You can either send us your resume in Danish or in English. If there are specific language requirements, they will be stated in the job advertisement.
How do I apply for a job at Sweco?
You are applying for a listed or unsolicited position at Sweco through our website and recruitment system. We do not accept applications via email.
You can also see our current job opportunities on LinkedIn and Jobindex.
Let us connect!
Please fill out our contact form and send us your questions, and we will contact you.